Posted by Haggerty Services
On November 25, 2016
infestations, Pest Control Tips
Are you planning on bringing home a live Christmas tree this year?  There are over 33 million live trees sold every year and there could be up to 25,000 bugs in just one of them.  Most of them are microscopic and not dangerous to people.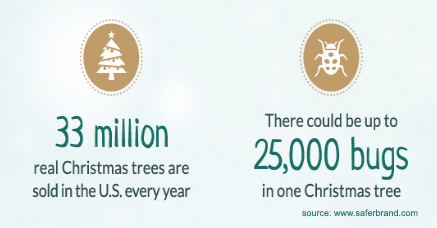 A few that you might find here in South Florida:
Aphids
Usually found on lower branches.  Don't squish on carpet or furniture; they will leave a red or purple stain!
Spiders and Mites
Look for tiny red and brown dots.
Adelgids
Looks like a dusting of snow.
Pine Needle Scale
Check for white specs on the needles or branches.  They turn in to tiny red bugs when hatched.
Call our Palm Beach and Broward pest control specialists for help if you find an infestation of bugs from your Christmas tree!  Emergency service is available.