Posted by haggerty
On October 26, 2016
Chinch Bug
Chinch bugs cause far-reaching damage to St. Augustine and other South Florida grasses.  Damage typically occurs in very sunny areas of your grass, especially when weather is hot or dry. Lawns with thick thatch or especially thick, lush lawns suffer greater susceptibility to chinch bug populations and damage, since the density offers a great place for adults to feed and lay eggs.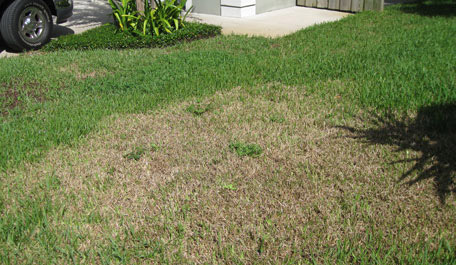 Spreading patches of brown, dead grass is a good indicator of chinch bug infestation.  The slender bugs stick their beaks into the grass and suck the juices dry while releasing a toxin that causes yellowish to brownish areas to form.
It's very difficult for Florida property owners to control chinch bugs themselves as the bugs have become resistant to many pesticides used to control them.  And because chinch bugs fly, it's not possible to keep them from invading if they have infested neighboring properties. Haggerty Pest Control treats chinch bugs with careful and controlled use of some of the few insecticides that are effective.