Posted by haggerty
On January 25, 2017
Ah, the sound of pitter patter of little feet. 
Unless it's your toddlers in the nursery, anything sounding like from up above means trouble.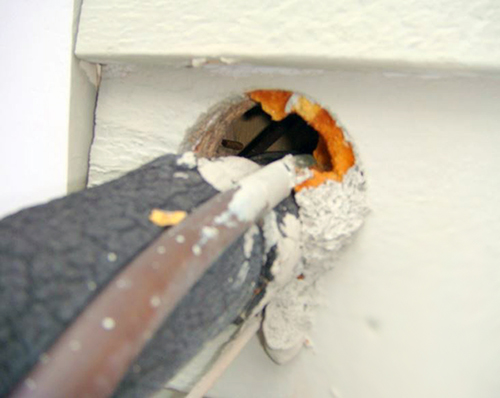 As the South Florida temperatures dip during our brief winters, rodents are looking for a good place to hang out.  They know how to get into your warm attic; via the line set cover of your air conditioning unit and other holes.
Rodents destroy insulation, electrical wiring, plumbing, and other structural components of buildings. House mice can enter openings larger than 1/4 inch and jump as high as 18" from a floor onto an elevated surface.
Seal all such holes and openings with steel wool, copper gauze or screen wire packed tightly into openings. Check that they stay in place during monthly inspections.
By the way, keep an eye on your car or truck if you keep it parked outside.  Clean all food – including sealed bags – out of cars, especially nuts and dog food. Also, anything that smells sweet like vanilla air fresheners. Rats and mice can nest and do severe damage by chewing on wires.  Some mechanics suggest putting peppermint oil, dryer sheets or moth balls in the engine compartment to repel rats and mice.  Auto parts stores carry magnetic baskets you can put under the hood to hold them.
Call Haggerty Services for complete pest control and rodent removal if you hear noises from up above.